Dear Tustin Democrats,
This September finds us 2 months away from the most important election of our lifetimes.  Even as we work to get Joe Biden elected (and Trump OUT!), Katie Porter Re-Elected, Dave Min and Melissa Fox elected to California State Offices and Letitia Clark, Beckie Gomez, Lee Fink, Allyson Damikolas and Susan Stocks elected to important Tustin offices, we are still dealing with the COVID Pandemic, economic catastrophe and state-wide firestorms.   Oh 2020, you are too much!
Join us as we work to bring change to our local commmunity (COVID has shown us that local elections matter ALOT!)  We are committed to progressive change in our city, state and country.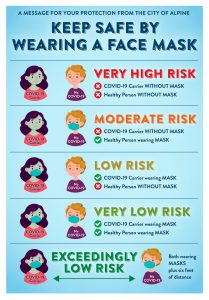 COVID  IS STILL WIDESPREAD IN OUR AREA – STAY SAFE.
The
information in this link
 will offer suggestions for How To Stay Safe, resources if you or someone you know needs assistance and information from our CA45 Rep. Katie Porter about the US Congressional Coronavirus Aid, Relief, and. Economic Security Act (CARES Act).
Moments like this reminds us that we're all connected – we are called upon to be our best selves, with patience, understanding and compassion. Despite the many difficulties we all face, we cannot forget that we are in this together. Stay safe.
The Tustin Democratic Club Board
Mission:  The Mission of the Tustin Democratic Club is to support Democrats running for local, state, and federal office. 
Vision:  2020 Goal:  Our goal is to get more Democrats elected to federal, state and local offices!  Keep the Blue Wave Going!