When:
October 4, 2020 @ 2:00 pm – 3:00 pm
2020-10-04T14:00:00-07:00
2020-10-04T15:00:00-07:00
Where:
Your House on ZOOM!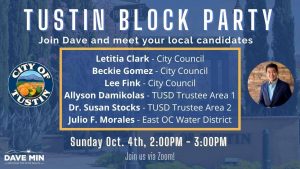 Join us to hear from Dave and the Tustin down-ballot candidates! Dave's priority until Election Day is spreading the word about local candidates and helping them get elected.
City Council Candidates: Lee Fink, Letitia Clark, and Beckie Gomez.
Tustin Unified School District Candidates: Allyson Damikolas Area 1, Susan Stocks
Area 2.
East OC Water District Candidate: Julio Morales.