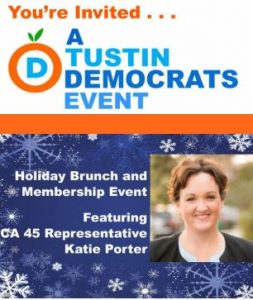 Join the Tustin Dems for a delicious Holiday Brunch with our special guest: CA 45 Representative Katie Porter.  Find out what's really going on in Washington D.C. and what Katie is doing to help Orange County families.
DATE:  THIS Sunday, December 15
TIME:  10:00 am to 12:00 pm
PLACE:  A Member's Home in North Tustin  (Address details will be emailed prior to the event date.)
SUGGESTED DONATION:  $10 Per Person at the Door
Know someone who'd like to find out more about what Tustin Democrats are planning for the election in 2020?  Please forward this email to them!