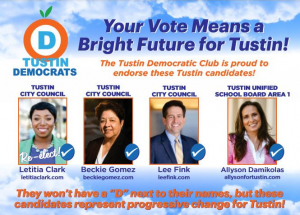 We will be dropping the remaining postcards on Dem voters door steps the weekend before the election. Can you volunteer to write a SHORT/1 Line message to these important voters?
Suggested lines would be:
"Thank you for being a voter!"
"Your vote matters to Tustin!"
"Thank you for voting!"
This needs to be a fast turn around – we need to get them done by October 22.
Sign up here
– you'll pick them up and return them to the same address – no mailing necessary!