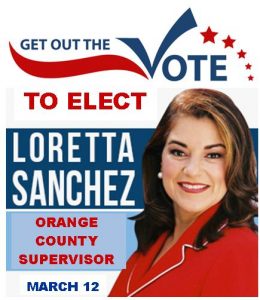 Next weekend is our LAST weekend before the March 12th election! We will be knocking on doors for all 4 days before the election – March 9 through March 12.
Electing a Democratic to the OC Board of Supervisors will make a HUGE difference to the lives of all OC residents – she will laser focus on issues that matter to OC Democrats: Jobs, the Environment, the Homelessness Crisis and Healthcare and Social Services.
Canvas For Loretta in TUSTIN: Your Door Knock Will Make A Difference!!!
WHEN: Saturday, 3/9, Sunday, 3/10, Monday, 3/11, and Tuesday 3/12
TIME: 10 AM-1 PM, 1-4PM, and 4-8PM
PLACE: 150 Mountain View Drive, Old Town Tustin
Thursday March 7 – THE LAST Phone Bank at Panera!
TIME: 5:00-8:30 PM
PLACE: Panera Bread Bakery 13205 Jamboree Rd, Tustin, CA 92782