B

ec

kie Gomez: OC Department of Education District 1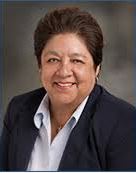 Beckie Gomez is the current incumbent for the Orange County Board of Education, District 1, and we encourage the City of Tustin residents to re-elect her! Gomez is a two-time Tustin City Council member, a longtime resident, and a former PTA/PTO president at two Tustin schools. She is one of the holdouts against a dangerously conservative 3/2 majority currently on the Board.
The County Board of Ed hasn't been a very well-known body for very long, but is becoming much more so due to a history of scandals, a few very problematic Board members, and some objectionable policies that have the potential to harm our students. The Board is currently struggling with the Department of Education to approve a budget, overruling district decisions on charter schools, and refusing to enforce CHYA (California Healthy Youth Act). It is acting outside of its oversight limits, not providing good guidance to the districts, and overriding local controls.
Gomez has been a champion for students and parents for her entire tenure on the Board of Education. She notes, "The future of our communities is reliant on an educated population, which starts with our K-12 students." It is essential for her to remain on the Board in order to maintain transparency, keep the Board accountable to the the public and to students, and make sure that all Orange County children have access to an education.